The Craters Band
will perform a string of music as a colorful fill between acts the light specialist Karl Cyberg controls the Light Show with the themes of nature elements.


Intro - description:
A build up of lights and music until some sort of climax has been reached. When you feel like your senses are exploiting than there will be silence and then it will all begin.....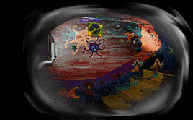 BIRGITTA JÓNSDÓTTIR - The Mask and The SwinG
Video: Kristrún Gunnarsdóttir - Music: Reptilicus - Computer animation: Laura Valentino

LAURA VALENTINO "Sensual Machines"
A short computer animation

SIGNÝ HAFSTEINSDÓTTIR - ŢULUR
Video: Arnfinnur R. Einarsson - Music: Einar Melax

VINDVA MEI - Lo-fi Biochemical Kill-Out Treatment
Music performance 7 minutes and 2 seconds

BERGLIND ÁGÚSTDÓTTIR - Videos and poetry
Video: Kristrún Gunnarsdóttir - Music: Sölvi

REPTILICUS - Havamal wrapped in music

ELÍSABET JÖKULSDÓTTIR - The WaterFall
Video: Sveinn M. Sveinsson - Voices: Andrea Gylfadóttir, Sigurjón Kjartansson, Jón Sigurbjörnsson, Viđar Hákon Gíslason, Einar Melax, Matthías Viđar Sćmundsson, Gustav Stolzenwale.

HARMONICS OF FREQUENCY MODULATION - Anti-grAvity

BIRGIR ÖRN THORODDSEN - Murder-Words

SIGURĐUR PÁLSSON - Performance with remote conntrol from France

KRISTINN GUNNAR BLÖNDAL - Music and Poetry
Music by Ó. Jónsson & Grjóni

SJÓN - LIVE FROM LONDON - Fly2

BRAGI ÓLAFSSON - Video & poetry
Video: Torfi Frans Ólafsson

KRIS and HILMAR ŢÓRĐARSON - The Ear

End of the Organized program and the beginning of the DJ's part. Dancing until it's daylight outside (well it's daylight 24 hours a day anyway that time of year here in Iceland). Moving in the ocean of light and the rhythms of the Craters DJ's.