Back * Photo IndeX * ForWard * To the Womb Index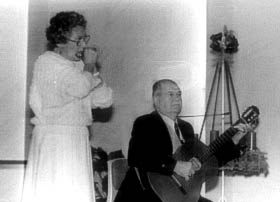 These are my grandparents, the parents of my Mamma. They used to play music together at home or publicly. Here they are playing at one of the poetry & music events I organized, this one is in the church in Hveragerdi. There was much music played in their home. I am such a rich person to have had them in my life. My grandfather died 1993, but Granny is still alive and kicking. Her being filled with wisdom of times that are so quickly vanishing from the life of modern men.

Alla Magga and Árni, their names woven from the same tapestry in memory, of times long gone, before we all moved to different corners of this world and beyond.