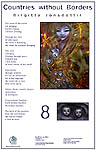 Published on Earth Poster Series #1
Countries without Borders

Countries without Borders first edition is published in a limited edition of 40 numbered copies.

Price: $17

In Other Words
-Maurice Peterson, New York: USA
"Birgitta Jonsdottir's poetry brings poetry to the new millenium with delicacy, style and passion. Seldom has an artist shown such brilliance with words and images in any age. If you love life, if you love beauty, then you must love Birgitta!"

-Paul McDonald, Kentucky: USA
"...a soul that has been here for a long time, Birgitta Jonsdottir is an emerging voice of the Goddess calling us into the new millennium..."

-Aleksi Aaltonen, Helsinki: Finland
" I'm proud to say that Birgitta must be the most outstanding multimedia artist of our time. The immense depth, strength and at the same time sensitivity in her poetry, music and art work is a joyful, powerful, and very personal, intimate experience time after time."



About the Author
Enlarged Picture of Poster