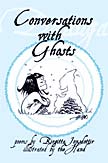 Beyond Borders Chapbook Series #8
Conversations with Ghosts
by Birgitta Jonsdottir & Maurizio di Bona

Price: $39
In Other Words

-Aleksi Aaltonen, Helsinki: Finland
" I'm proud to say that Birgitta must be the most outstanding multimedia artist of our time. The immense depth, strength and at the same time sensitivity in her poetry, music and art work is a joyful, powerful, and very personal, intimate experience time after time. "


Back

About the Artist
Maurizio Di Bona was born in Napoli, Italy 1971. He is a writer and a self made cartoonist interested in philosophy, music, literature and cinema.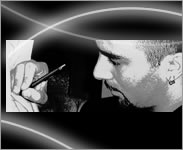 He has been drawing ever since he was a kid, but it wouldn't be until he was in his thirties that he dedicated himself entirely to comics and sign his work simply as theHand. Before that he worked for four years in the stressful environment of web/advertising agencies of Milano, Modena, Verona, Faenza and Firenze as creative designer and webdesigner. Maurizio created and developed the political/satirical magazine Alkemik.
He won the contest launched by italian rockstar Piero Pelù for his album UDS. He designed official merchandise for the Irish band, the Cranberries and for the american actress Gillian Anderson. He has recently made a final draft of the groundbreaking graphic novel based on the life of Giordano Bruno titled the Nolan is back and it's going to issue its related work Who's afraid of Giordano Bruno?. He is currently working for L'Ateo with the comic strip Ereticomix and for Par Condicio with political satirical comic strips. He's composing also first episode of Diane999's saga and waiting for issue of his graphic diary Scarabocchio Ergo Sum, a miscellanueous with lots of caricatures and strips of rockstars and politicians created in last three years. He is the winner of the contest launched by italian comedian Beppe Grillo at his official website.
For more toons, art and other creations have a look at his website,
The Hand

Birgitta Jonsdottir was born in Reykjavik, Iceland. Self Raised and Self Educated she started working at the age of eleven and moved away from home at thirteen. She has lived in Denmark, Sweden, Norway, England, USA, Australia and The Netherlands.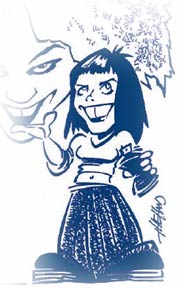 Birgitta has been active in the Icelandic literature, music, and art scenes for 19 years and is considered one of the pioneers in bringing The Arts to the Internet. Her first book of poetry, Frostdinglar (Icicles), was published when she was twenty by one of Iceland's leading publishers. Her art has been exhibited in the USA, Asia and Europe. She has taken part in festivals around the world, both art and poetry. Her work has been published in anthologies, TV, Radio, Magazines, Newspapers and on the Internet.

For more poems, art and other creations have a look at her website,
Womb of Creation