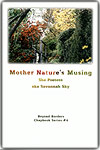 Beyond Borders Chapbook Series #4
Mother Nature's Musing
She Poetess aka Savannah Sky

Mother Nature's Musing first edition is published in a limited edition of 100 numbered copies. It is handmade. All profits outside of actual cost of the making of it will be donated to Rainforest Action Network

Price: $12

In Other Words

-Curupira - USA
"Amazing poetry! Makes me want to go hiking. It's filled with the wonder and beauty of the earth and primal human nature. We are one with the earth, and you know this well. Commendable achievement!!"

-Lucidfire - USA
"I think the poem Disappearing speaks the truth about cause and effect, and the horror of a species that would destroy the beauty of their home (the Earth). Your word use helps make the point that this isn't just something that has happened before or is being predicted that it will happen, but IS HAPPENING, right now. Great piece.

-Birgitta Jonsdottir - Iceland
SavannahÕs poetry featured in this book is written with big heart and passion to the many elements of our mother Gaia. They are like chants and if you go with them it might help you connect with these elements even in the heart of the big city.



About the Author
Cover of the Book

A Poem

-Rainforests Disappearing